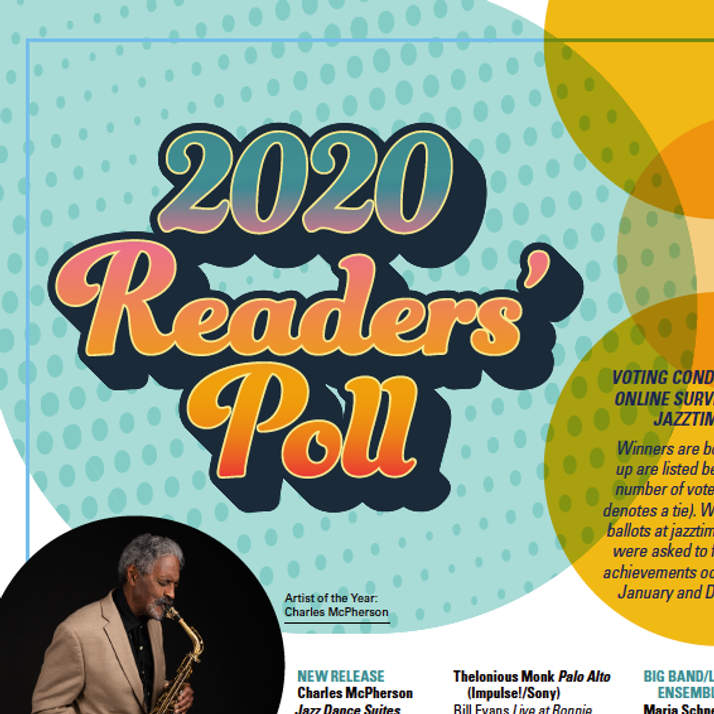 JazzTimes Readers' Poll
Winner, Best Female Vocalist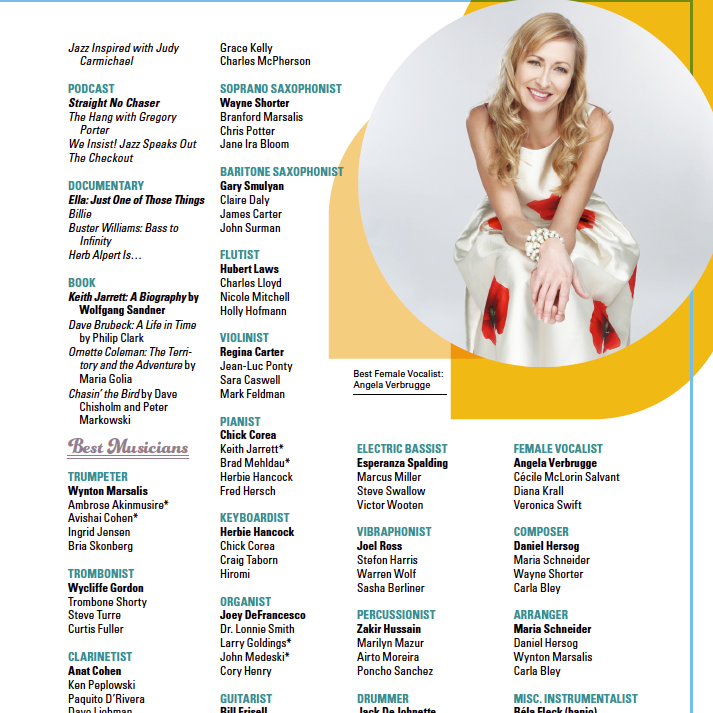 2020
Recognition for achievements within the past year.
Winner: Angela Verbrugge
Runners Up: Cecile McLoren Salvant, Diana Krall, Veronica Swift
 ALBUM ACHIEVEMENTS SUMMARY
* Recorded in New York City with a top-flight jazz trio, and co-produced by Sheila Jordan's long-time bass-voice duo partner
* Debuted at #1 in the Jazz Category on iTunes Canada 
* JazzTimes, one of the of the top jazz magazines in North America, published a glowing review in the April 2019 edition and requested an exclusive world-premiere of Angela's original co-written with Gerry Teahan on their website 
* The album was released by Gut String Records in NYC, run by the preferred bassist of vocal legends Jane Monheit and Annie Ross, alongside top-shelf NYC-based jazz artists (the Anderson brothers, Champian Fulton, Ehud Asherie, Neal Miner, Michael Kanan)
* Will Friedwald, the award-winning author ("A Biographical Guide to the Great Jazz and Pop Singers" and nine other books), journalist (Wall Street Journal) and curator for Apple Music wrote the liner notes to the album
* JAZZIZ Magazine's New Music Monday: "I'm Running Late" and "You're Almost Perfect" were selected to be featured in this leading jazz publication in the highly competitive column 
* See REVIEWS page... Angela received positive reviews from JazzTimes, JazzWeekly, MusicWeb International, The Toronto Music Report, The Record Journal, The Jazz Music Blog (Australia), JazzLives (Michael Steinman).
* Interviews and features in VENTS Magazine, Eponymous Review, Broadway World.
* Over a dozen radio interviews, including on Neon Jazz (Kansas City), CiTR The Jazz Show with Gavin Walker (Vancouver), A-Trane with jazz historian Nou Dadoun (Vancouver), The Jazz Disturbance (NY), Frankie Sticks (NYC), Arnold van Klavern (Victoria, BC). 
* Played by CBC Saturday Night Jazz (Laila Biali)on several occasions. Played by Margaret Gallagher on Hot Air, and CBC in the prarires. "The Night We Couldn't Say Good Night" received critical acclaim across the globe and it was featured on radio stations in Canada, the US, South America, Europe and Asia, including multiple programs on CBC Radio and Jazz FM (Canada), Fine Music 102.5 (Australia), New Jazz Radioh GmbH (Germany), Jazzmania (Mexico), Radio ARA (Luxembourg), One World Music Radio (UK) and WBGO (USA). 
* The album charted at #9 on the National Jazz Chart (Earshot) in Canada (Apr 16, 2019) and the Jazzweek charts in the United States
* Placed in the top ten vocal jazz release picks by Jim Dupuis of Earshot-Online.com "Best Jazz of 2019" 1. Catherine Russell, 2. Kurt Elling, 3. Kinga, 4. Veronica Swift, 5. Elizabeth Shepherd, 6. Lucy Yeghiazaryan, 7. Diana Panton, 8. Angela Verbrugge
* As executive producer, co-producer, creative director, rehearsal manager, and administrator, Angela diligently ensured every aspect of this independent project was completed to the highest industry standards including mixing and mastering with Palace Studios and the Warehouse. With rehearsals and recording in New York, New Jersey and Vancouver, Verbrugge tackled the international project to achieve a world-class result. She researched and selected all material, envisioned arrangements with contributions from Miles Black (Vancouver), Art Khu (San Francisco), Karin Plato (Vancouver) and Ray Gallon (NYC). As co-producer, she finalized production elements to achieve editing, mixing and mastering to international vocal jazz standards on a homespun budget.
* The three-year project resulted in an album that garnered exceptional critical acclaim for a self-managed debut.